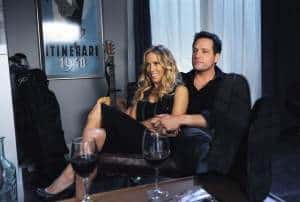 We just posted promo photos for the new episode of Cougar Town that will be airing on March 31 and now we have three sneak peeks to share with you below.
JULES MEETS SARA, ON ABC'S "COUGAR TOWN"
Nine-Time Grammy® Award Winner Sheryl Crow Guest Stars as Sara
"Everything Man" - Grayson introduces girlfriend Sara to Jules and company, on ABC's "Cougar Town," WEDNESDAY, MARCH 31 (9:30-10:01 p.m., ET). Jules and Sara hit it off, but when Grayson is overly attentive to his new girl, Jules warns him to back off before Sara pulls away. Meanwhile, Jules' perfect new bathroom - complete with a "talking toilet" - becomes the main attraction in her home; and Grayson finds inspiration for a new song with a little help from Sara.
To Read More Click Here.