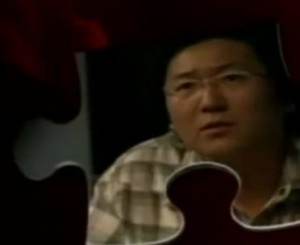 Okay, I'm confused. I thought this guy named Samuel was the big baddie this season on Heroes. Remember him? Robert Knepper played him. Yeah, so now he is reduced to sharing a floating puzzle piece with the implication that it is really Sylar who is the big bad again.
As much as we all love Zachary Quinto - it is commonly known that he DOES walk on water from time to time - isn't Heroes a bit Sylar'd out at this point? I mean, it used to be that Sylar was the one aspect of the show that never failed. Used to be, that is. Then there was that belly-laugh inducing sequence of Sylar turning into his own mother. Embarrassing. Followed by this seasons schizo Nathan routine, and all of the continuity flaws that ensued. Add to the fact that there is now a discernible pattern to the Sylar arc:
A) Begin the season with everyone thinking he's 'dealt with.'
B) Sylar considers a face turn, nearly becoming a good guy.
C) Succombs to the monster within and concocts plot to rule/destroy the world and make everybody pay.
Sadly, Sylar was most interesting during season one - without steps A, and B. But any who, can someone explain to me why this promo seems to be jettisoning most of what has passed for this season's 'story' in favor of what will certainly be another trip around the aforementioned cliche? Is there hope? Anyone?