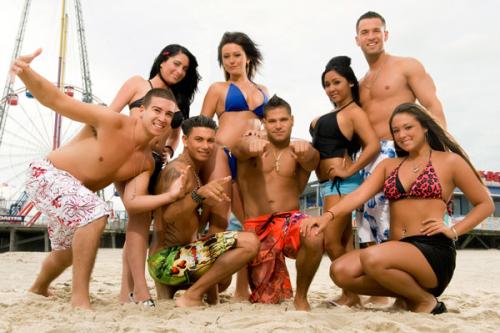 "We don't pump our gas ... we pump our fists." - T-shirt seen on Jersey Shore
MTV's newest hit series (sorry, it's only hit series) is only four episodes old, but its crazy, tan, party animal guidos housemates have created a lot of buzz for the failing network.
Pauly D, Vinny, Snooki, JWoww, Sammi, Ronnie and The Situation may be devoid of class, disgustingly fake-tanned, drunk, oversexed and on 'roids, but that's why we love 'em.
Whether or not the Jersey Shore cast itself is in on the joke, we can't say. But we also can't wait for the next episode of the MTV surreal-ity show December 31 at 10 p.m.
Check out some of the best lines from the series' first four episodes below, and be sure to follow this link to visit TVF's full, comprehensive library of Jersey Shore quotes!
To Read More Click Here