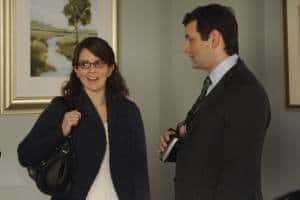 Michael Sheen will be making a guest appearance on an all new episode of 30 Rock on March 18 and NBC has released promo photos and a synopsis. Check them out below.
DON GEISS, AMERICA AND HOPE
Liz Lemon (Tina Fey) keeps running into Wesley (guest star Michael Sheen), forcing them to question their decision, while Jack Donaghy (Alec Baldwin) tries to establish himself with the new cable company. Meanwhile, Tracy Jordan (Tracy Morgan) is distressed about his reputation when his kids' former nanny writes a tell-all book, and Jack Donaghy (Alec Baldwin) seeks to secure his own position in the new company.