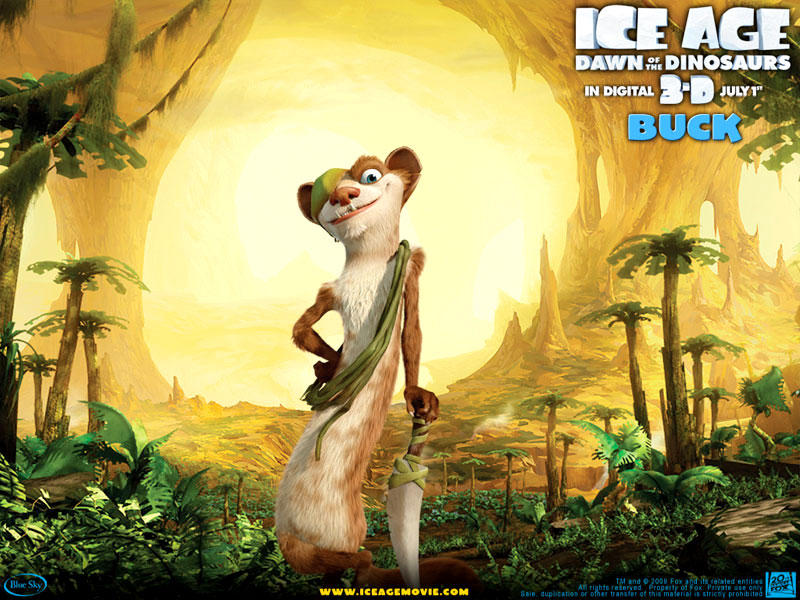 Manny and his gang will get a new ally in "Ice Age: Dawn of the Dinosaurs" as seen in its newly-released clip. A minute long, the snippet comes from MSN and titled "The Name's Buck". The clip displays the time Manny, Diego, Ellie, Crash and Eddie encounter a one-eyed, dino-hunting weasel named Buck.
The clip starts when the five-some come out from their hiding from behind the bushes. Without hesitation Crash and Eddie jump out to praise Buck, but Buck surprises them by throwing a makeshift knife and picking them up by their tails. After inspecting the fraternal twin brother opossums, he then jumps onto Manny's face to introduce himself.
"Ice Age: Dawn of Dinosaurs" is the third installment of the Academy Award-nominated computer-animated film "Ice Age". The film directed by Carlos Saldanha will once again hear the voices of Ray Romano, John Leguizamo, Denis Leary as the three unlikely friends, Manfred, Sid and Diego respectively. Set for July 1 release in the U.S., it also features Queen Latifah and Seann William Scott as other voice talents.
This time, while Scrat is still trying to nab the ever-elusive nut, Manny, Diego, Ellie and her two brothers fall into a mission to rescue the hapless Sid. They venture into a mysterious underground world, where they have some close encounters with dinosaurs, battle flora and fauna, and meet a relentless, one-eyed, dino-hunting weasel, Buck.