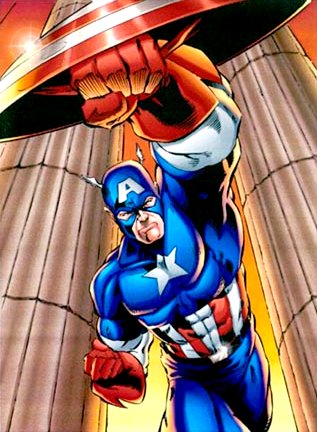 As "Captain America: The First Avenger" is ready to shoot in no time soon, a costume for the character has been prepared. While Marvel has not revealed the wardrobe, JoBlo claims to have been able to take a look at the superhero's suit and shares the details.
According to the site, the wings on cowl are gone. In fact, the hood is gone entirely and replaced with a "more traditional M1 Army helmet" which still comes over the eyes. The white "A" letter on the forehead is still present and a thick black strap comes down over the ears and connects under the chin.
As for the entire suit, the blue is much more muted than the blue in the comic costume. The white star on the chest remains, though it is not as prominent as in the comics. The red and white stripes on the abdomen are replaced with a white base with two red utility belts acting as stripes. "These belts affix to a metal loop at the midpoint of the chest and a black strap extends up to the shoulders from that point," the site explains.
To Read More Click Here.