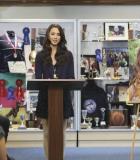 Are you ready to bid farewell to Alison? Or to meet her brother? Or to hear her creepy fantasy about dying?
We hope the answer is yes, Pretty Little Liars viewers, because all these developments and more take place on the episode "Please, Do Talk About Me When I'm Gone."
As the clips below depict, A's memorial is at the center of next week's installment. This means that her older brother, Jason, returns to town and that we'll flashback to a beach scene between the beauties, in which Alison speaks on "immortality."
It's creepy and it's available for a sneak peek now. Remember to visit our Pretty Little Liars spoilers section for more insight on what's to come...