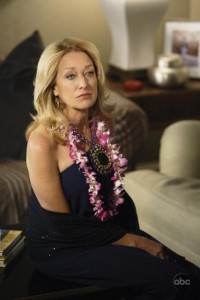 Unfortunately, there is no new Brothers & Sisters this Sunday (November 22nd), but we did post promo photos for the upcoming new episode on November 29th. ABC has also released promo photos and a synopsis for the December 6th episode which features a beach wedding and plenty of leis.
JUSTIN AND REBECCA'S SPONTANEOUS WEDDING PLANS END IN A SHOCKING TWIST OF FATE FOR ONE OF THE WALKERS, ON ABC'S "BROTHERS & SISTERS"
"Nearlyweds" - In typical Walker fashion, Justin and Rebecca's on-again, off-again beachside wedding plans take a shocking turn, while Tommy takes a dangerous risk to assure that his daughter is by his side, on "Brothers & Sisters," SUNDAY, DECEMBER 6 (10:01-11:00 p.m., ET), on the ABC Television Network.
"Brothers & Sisters" stars Dave Annable as Justin Walker, Maxwell Perry Cotton as Cooper Whedon, Kerris Lilla Dorsey as Paige, Sally Field as Nora Holden, Calista Flockhart as Kitty Walker, Balthazar Getty as Thomas Walker, Rachel Griffiths as Sarah Walker, Luke Grimes as Ryan Lafferty, Luke Macfarlane as Scotty Wandell, Rob Lowe as Senator Robert McCallister, Matthew Rhys as Kevin Walker, Ron Rifkin as Saul Holden, Emily VanCamp as Rebecca Harper and Patricia Wettig as Holly Harper.
Guest starring are Sarah Jane Morris as Julia, Ken Olin as David Caplan, Trease Baker as Elizabeth Walker, Susan Chuang as Dr. Debra Cho, Liz Laird as the nurse, Maxim Knight as Seth, Jeanne Syquia as the college girl, Steve Spel the EMT, Darryl Alan Reed as Dr. Bob Stanton and Jon Tenney as Dr. Simon Craig.