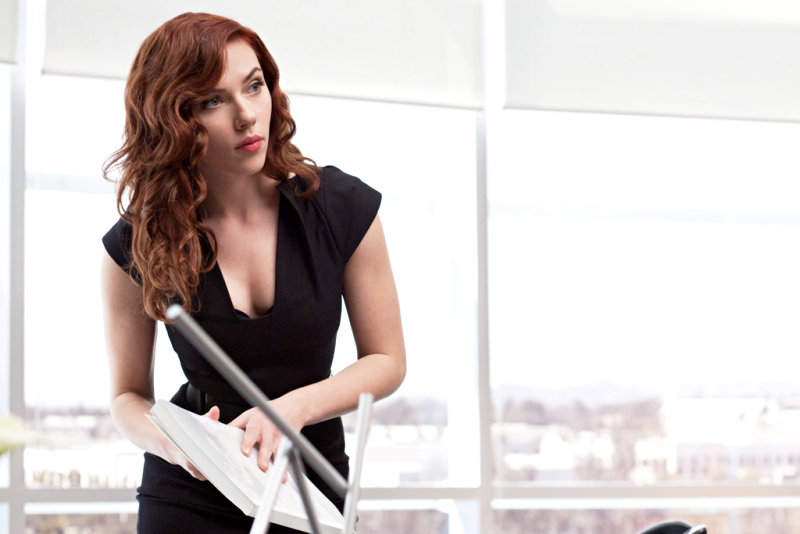 Another photo of Scarlett Johansson's femme fatale character in "Iron Man 2" has made its way out as Marvel Studios debuts a brand new image for the "Iron Man" sequel on Yahoo! Movies. Whereas the Entertainment Weekly's pictures feature the 24-year-old posing as Black Widow, this one captures her in one of the film's scenes as Tony Stark's new secretary, Natasha Romanoff, who is also the superspy's alter ego.
Regarding recent circulating speculation that fellow "Iron Man" actress Gwyneth Paltrow is angry at Johansson for stealing her spotlight in the superhero movie, representative for the Pepper Potts' depicter has set the rumor straight. "She was not at all upset," insisted her spokesman. "The fans will get to see more of Pepper Potts as we get closer to the film's release next May."
Earlier, The Sun reported that the 36-year-old Paltrow was fuming because she was being overlooked for her younger co-star, especially with the coming out of the movie's new promotional photos. "Gwyneth was afraid she'd be upstaged by Scarlett, and not being in the campaign was the final straw," a source was quoted as saying. "She is furious she's been left out."
Directed once again by Jon Favreau, "Iron Man 2" had its script written by Justin Theroux. Robert Downey Jr. and Gwyneth Paltrow reprise their role as Tony Stark/Iron Man and Pepper Potts. They are joined by Don Cheadle who will take on Colonel James 'Rhodey' Rhodes in place of Terrence Howard, Samuel L. Jackson who stars as Nick Fury, and Mickey Rourke who is set to carry out Whiplash among others.
Set to hit in U.S. theaters on May 7, 2010, this "Iron Man" sequel has wrapped its principal photography. It will be presented by Paramount Pictures and Marvel Entertainment at the San Diego Comic Con 2009 on Saturday, July 25, from 04:00 P.M. to 05:00 P.M. at Hall H. Beside the Black Widow photos, captures of Pepper Potts, Colonel James 'Rhodey' Rhodes and Justin Hammer have been unveiled as well.