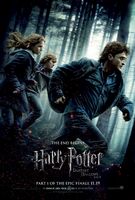 Since it was announced that "Harry Potter and Deathly Hallows" will be made into two movies, fans have been wondering where the book will be split. An article from the latest issue of Entertainment Weekly has provided the answer, mentioning that "Harry Potter and the Deathly Hallows: Part I" will end [SPOILER ALERT!] "at about Chapter 24 of the book, with Voldemort gaining possession of the Elder Wand, one of the three Deathly Hallows that allow the bearer to conquer death."
In the article, Warner Bros. Entertainment President Alan Horn also spoke about the decision to split the last book into two films. "I don't want to be disingenuous or dishonest about this. There's no question that Warner Bros. will make more money with two films than they would have with one," he claimed. "But we also never, ever would have done this if [author J.K. Rowling] had not endorsed it and if we didn't feel that we were providing a better finale, with a more full sense of closure. We just respect and love the books too much for that."
To Read More Click Here.