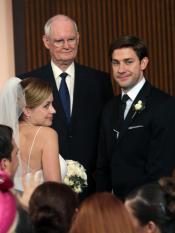 Suddenly, Simon Cowell's seat on the American Idol judging table isn't the most pressing vacancy on TV.
Earlier this week, Steve Carell made it as official as he could: he's very likely to leave The Office after his contract runs out next year.
While the way in which writers pen Michael Scott's exit isn't a source of debate (he has to end up with Holly in Nashua, right?!?), who the show will choose as the new manager of Dundler Mifflin Scranton should be cause for months' worth of speculation.
To Read More Click Here.