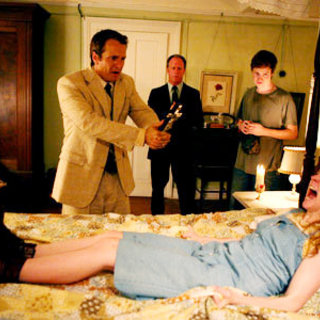 A new trailer for "The Last Exorcism" has been outed for preview. Though shorter than a previously released trailer, the new video manages to explain more about the storyline through its creepy scenes and disturbing footage.
Told in faux documentary style, the film follows a Reverend named Cotton Marcus who is contacted by Louis Sweetzer to exorcise a demon from his daughter Nell. Agreeing to take on one last exorcism, he allows a film crew to capture his exploits.
But upon arriving at the already blood-drenched family farm, it is soon clear that nothing could have prepared him for the true evil he encounters there. Now, too late to turn back, Reverend Marcus' own beliefs are shaken to the core when he and his crew must find a way to save Nell - and themselves - before it is too late.
To Read More Click Here.