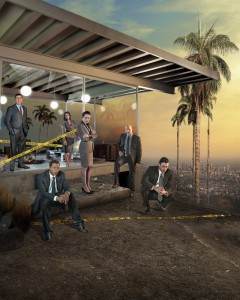 When a pro surfer comes home to care for his mother and ends up dead, it's not only a botched robbery, but possibly an inside job. That convoluted sentence is the premise of tonight's episode of Law & Order: Los Angeles, at least according to the synopsis. If you're confused, I can't blame you.
If there's one good thing, we do get the original Steve Zirnkilton opening narration back, but still no titles, and we're saddled with another pop-song intro before we visit a medical marijuana dispensery in Harbor City…and Rex and TJ find the dead surfer, Trevor Knight, in the back room. Oh, now I understand the robbery angle. A little research and our cops think they have a multiple-robbery crew on their hands.
"All the dispenseries are being serviced by one [security] company," Rex notes, and one of the dispatchers at said company just happens to be married to an armed robber. She tells them that she gave her husband a list of potential targets to give to a man named Roker. Thus, a sting operation is born, and blown just as quickly. At least they manage to arrest Roker. He swears that he cased Harbor City, but was chased off the robbery by a member of the Sons of Samoa gang.
To Read More Click Here.