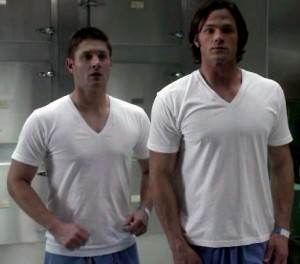 I know I'm constantly bemoaning the Apocalyptic plot developments on 'Supernatural,' but this week's episode, 'Sam Interrupted' solidified my distaste for the storyline. If you've seen the episode, you're probably thinking, "But Julia! Why are you saying this now?! Lucifer wasn't even IN this episode." And, dear reader, you would be correct. As far as Season 5 goes, the events were very un-Apocalyptic (a wraith, masquerading as a nurse, invades a mental hospital to eat the crazy brains, driving the Winchester boys psycho in the process). But that is my point. Lucifer is walking free with his buddies War and Death, entire towns are apparently going in the shithole, and Castiel probably needs help at the Wal-Mart self-checkout or something. Yet Sam and Dean Winchester, the two people that this Big Damn Battle supposedly revolve around, are attempting to save a group of crazies in a mental institutions from an evil, non-Apocalypse related creature. I'm sorry if this comes off as callous, but it begs the question - what the fuck is wrong with these guys?
Yes yes yes. I know they were trying to save their crazy hunter buddy, Martin. Priorities. But the things that succeeded in this episode were the things that didn't have to do with the Apocalypse, the things that made Seasons 1 and 2 so appealing to me as a viewer: the boys and the monster. (Really. The formula is that simple.) The things that were less successful - tying the conflict into the Apocalypse and the boys talking about their "feelings" - were the things that have dragged down the storyline in the last two years.
To Read More Click here.