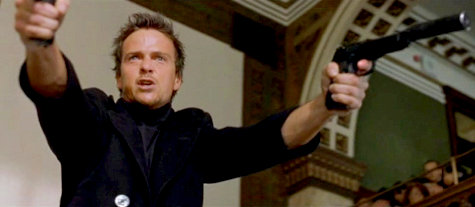 A red band trailer for "The Boondock Saints II: All Saints Day", the sequel to the 1999 indie "The Boondock Saints", has finally arrived. Courtesy of IGN, this sneak peek sees the return of its stars Sean Patrick Flanery, Norman Reedus and Billy Connolly, and a peek at new cast members which include Julie Benz and Clifton Collins Jr..
Fraternal twins, the MacManus brothers, have been in deep hiding in the quiet valleys of Ireland, removing themselves far from their former lives or modern technologies. But then word comes that a priest has been killed by sinister forces in the tough underworld of Boston. With a new partner in crime and a sexy FBI operative hot on their trail, they return to mount a violent and bloody justice to those deserving.
Like the first movie, "The Boondock Saints II: All Saints Day" is written and directed by Troy Duffy. Anne Thompson of Thompson on Hollywood reported that it has been acquired by Apparition and Sony Pictures Worldwide Acquisitions Group and is set to open in theaters across the U.S. October 30.