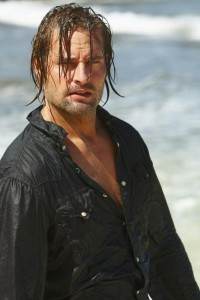 Some crazy reveals in the most recent episode of LOST, right? First of all, the whispers are basically ghosts who are trapped on the island (for one reason or another). In a way, the island is almost like purgatory, it seems. Maybe not in the literal sense, but it is a place that is basically holding Hell (or the evil Smoke Monster) in check and it's also the resting place for ghosts who are unable to leave. So, yeah...purgatory.
I like the fact that the sideways world and the real world are starting to come together. Hurley remembering his life on the island with Libby (albeit briefly) gives me hope that there is, in fact, a bloody point to the sideways world (sorry, guys, but it's been bugging me until the recent episode with Desmond).
To Read More Click Here.