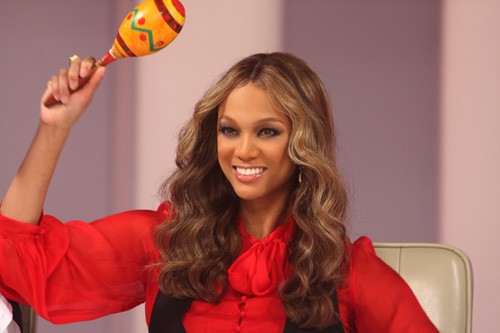 We're one episode away from the finale of Cycle 12 of America's Next Top Model and it's down to the fierce final four: Allison, Aminat, Celia, and Teyona. With a single elimination standing between the girls and the finale, it's do or die time for the models, especially since Tyra Banks will be photographing them this week. As we've seen in previous cycle's, a photo shoot with Tyra can make or break a girl in this competition. If Tyra loves photographing you: your stock is rising. If Tyra doesn't enjoy photographing you: watch out. For her Cycle 12 photo shoot Tyra is stepping out of her comfort zone of black and white beauty shots to photograph the girls as the colorful exotic birds of Brazil. The avian theme of the photo shoot certainly has us asking: who will soar above the competition and who will come crashing to the ground?
Watch with me tonight as we discover together who will be in next week's big finale. After the show, be sure to log on to Twitter and tweet me some questions for my interview tomorrow morning with whoever is eliminated tonight.
It's Top Model time! I can't believe we're one episode away from this Cycle, it zoomed by didn't it? Are you shocked by this cycle's final four? I got two of the final four correct in my pre-cycle predictions, but that didn't include who has become the cycle's obvious front-runner: Teyona.
Teyona is feeling great about her picture being first. She feels she's getting better and better. She also says she's the one people need to watch out for. Talk like this usually spells doom for a contestant, but I'd be beyond shocked if Teyona was eliminated tonight.
To Read More ClicK here.