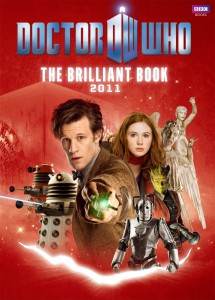 For those of you who can't get enough of Doctor Who, BBC is pushing out books left and right for the series. DK is releasing a "Visual Dictionary" for the series (stay tuned to TVOvermind for more details on that very soon), and BBC books is now releasing The Brilliant Book of Doctor Who 2011.
Though the title says 2011, the book is actually focusing on the 2010 series, making it a sort of guide to Matt Smith's first year in the TARDIS. The book, with its striking-red monster-filled cover, will hit UK shelves on September 30 and US shelves on October 19.
The book looks to be full of a lot of interesting information that works more as a real-world companion to the series, as opposed to the more in-universe perspectives of other such volumes. I can't wait to see the behind-the-scenes stuff presented in this book. It looks simply amazing.
To Read More Click Here.