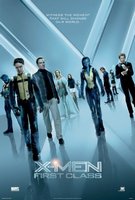 Mutant superheros X-Men are going to invade Michigan. According to a scouting alert which is released by West Michigan Film Office, "X-Men: First Class" is scouting locations in the city with specific details including "a 1960's, South-American or Central American island feel".
"In particular, he needs to find cafe and bar locations, evoking the Argentinian feel of Bariloche, and an Art Deco Cafe or restaurant overlooking a body of water," the alert further mentions. "Additionally, the movie calls for a Miami styled harbor for yachts. If you know of any locations that seem to match a description, please contact our office."
In another news, "First Class" has been reported holding auditions in Los Angeles. Additionally, casting call will also be done in London, England. Disney Feature Film Casting further states that the upcoming "X-Men" movie is ready to kick off principal photography in September for a scheduled June 3, 2011 U.S. release date.
To Read More Click Here.