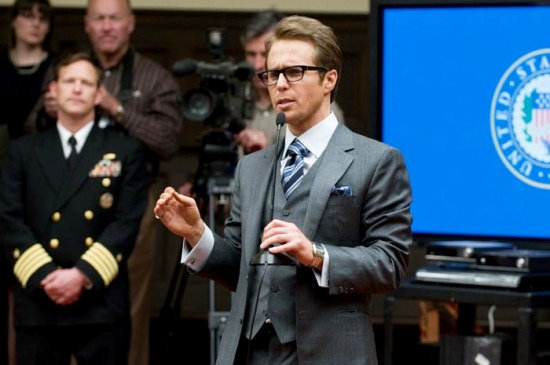 Beside Whiplash, Tony Stark will have another foe known by the name of Justin Hammer to be taken care of in "Iron Man 2", and Sam Rockwell, the actor taking on the role, has described his baddie character to IGN. "He's a rival of Tony's - they are competitors in the weapons industry," Rockwell shared when promoting "Gentlemen Broncos" at Fantastic Fest in Austin, Texas.
Explaining the relationship between Hammer and Whiplash, the 40-year-old said, "I team up with Mickey Rourke and we decide we want to take him down and take down the Stark legacy." He then compared the baddie to his "Charlie's Angel" character Eric Knox, saying "He's sort of like a cousin of the Charlie's Angels character I played. The smarmy cousin. But it's Mickey - he does the fighting and the kicking ass in the film."
Asked what would be different for "Iron Man" sequel, Rockwell responded by promising more actions. "It's a bigger scope," he said. "There's a lot more action and fighting. More characters. It's bigger and there's a lot more to get your head around, so it's a tougher job for [Jon] Favreau and Justin Theroux, who wrote it."
"Iron Man 2" teams up once again director Jon Favreau and star Robert Downey Jr.. They will be supported by a number of A-list actors, including Gwyneth Paltrow, Don Cheadle, Scarlett Johansson and Samuel L. Jackson, in the star-studded cast ensemble.
So far, the plot of this sequel is yet to be disclosed, though rumor has it, Stark will be dealing with his alcohol problem. Paramount Pictures eyes to distribute this actioner in theaters across the U.S. on May 7, 2010.