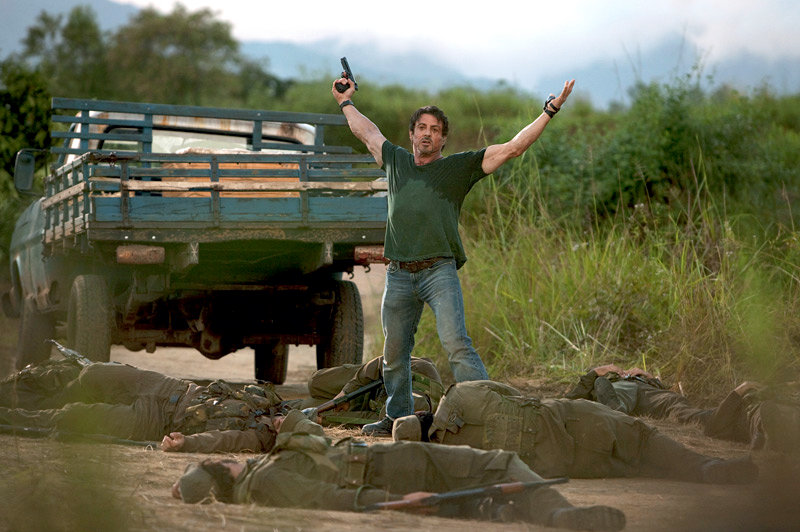 Empire Online has shared another sneak peek at the forthcoming action thriller "The Expendables" by releasing a brand new image. The freshly-released photo presents leading actor Sylvester Stallone in his Barney Ross role standing amidst a pile of dead bodies with a gun in his hand.
Along with the picture, the site also made public what Stallone has to say about the movie. Regarding the title, the 63-year-old shared, "It's from Rambo 2. The girl I'm falling in love with says, 'Why do you do what you do?' I say, 'I'm expendable.' She says, 'What does that mean?' I say, 'It's like someone invites you to a party and you don't show up. It doesn't really matter.' And these men, they live a life that...They're expendable."
"If they're gone, the world will go on," he continued explaining. "No one will miss them, They don't have families, all they have is each other. They're expendable to the rest of the world, but they're not expendable to each other - they're just necessary. So it's a real brotherhood. I think it has a lot of heart for an action film."
On what he wants to show with this movie, he said, "What I wanted to do was just try to do something that is a little different. Today, technically, we're incredibly gifted and versatile with CGI, and I wanted to do a film that was more about men, doing things that we did back in the 80s and 90s that were a little more mano a mano - actual, physical stunts." He added, "It's also a story that isn't super-gigantic; it's almost a believable story."
"The Expendables" centers on a group of mercenaries hired to infiltrate a South American country and overthrow its ruthless dictator. Soon after their mission begins, the group led by Barney Ross realizes things aren't quite as they appear and finds themselves caught in a dangerous web of deceit and betrayal.
Directed and penned by its leading star Sylvester Stallone, the movie has Steve Austin, Dolph Lundgren, Brittany Murphy, Charisma Carpenter and Randy Couture among the star-studded cast ensemble. It was shot in locations, such as Brazil, New Orleans and Los Angeles starting on March 28.