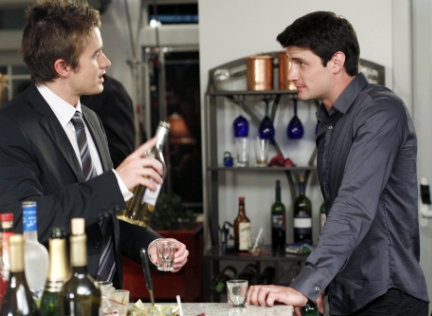 Next Monday on October 19, "One Tree Hill" will return to the small screen to see that Nathan is yet to put his potentially crippling scandal behind him. The main character of The CW's drama series will find himself in a hairy situation as the scandal now threatens his endorsement deals.
When the show airs its latest episode titled "Deep Ocean Vast Sea", Haley considers taking matters into her own hands. Julian gives Alex another chance, while Brooke reconnects with Chase. Millicent questions whether she has what it takes to be a model. And, Clay, in the meantime, lets Quinn in on a big secret.
Robert Buckley and Shantel VanSanten, the actors who play Clayton Dawson and Quinn James respectively, have recently addressed their characters' potential on-screen romance. "I can say with certainty that it will be messy," Robert said as quoted by E! Online. "It's a tough situation because I wouldn't say Clay is all for a hookup, but he's attracted to her."
Shantel chimed in, saying "Obviously, Clay and I get along, but Quinn is still married, so it will be interesting to see. I keep trying to get it out of Mark [Schwann], but he says he doesn't know yet." Adding more, Robert shared, "The two have a unique relationship. Clay can put his guard down when he's around Quinn. Whether that turns into a friendship or a romance that remains to be seen."
To Watch The Preview Click Here.