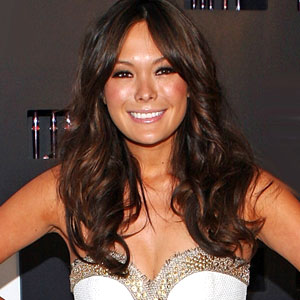 Could Lipstick Jungle be resurrected on another channel? Things are hard for hour-long dramas at NBC right now, especially with Jay Leno coming to the network soon and taking all the 10 p.m. slots, but there's been talk of a network swap that might just save the show.
Could it really happen? Jungle star Lindsay Price gives us the exclusive scoop...
At the M.A.C Cosmetics Hello Kitty event in New York City last night, Lindsay told us, "Bravo or Lifetime...That's what they're saying...Or they're talking about maybe doing what they did with Friday Night Lights - airing on DirecTV and then later on NBC."
And if the show does get picked up, we might see Victory Ford actually marry Joe Bennett, so what would the onscreen fashionista wear? Lindsay said, "I don't know. Maybe Peter Som, who does some of our stuff." After a moment she said, "Oh, actually she'd probably do her own dress." If she didn't though and she got to wear her total dream dress? "Maybe old-school Givenchy. Or Valentino!" Sounds perf to us.
Can you see Lipstick Jungle going to Bravo or Lifetime? Would you watch?