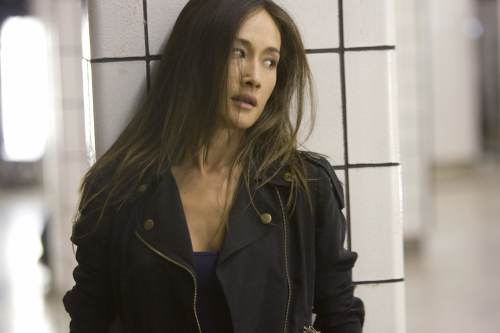 Here's how I described Nikita in the current Fall Preview issue of TV Guide Magazine: "Cherchez - and beware - la femme. The fugitive assassin has lost none of her allure in this riveting rethinking of a paranoid action classic."
To elaborate: Nikita, not NBC's more heavily hyped Undercovers, is this season's successor to Alias and 24 if you're seeking intense, emotionally driven spy action. (Undercovers could develop into something more interesting than its fluffy/glossy pilot indicates, but that's another story.) The third iteration of the La Femme Nikita story - initially an indie French cult movie, then a successful USA Network series for five seasons - proves that the premise, like its new grim and gorgeous star Maggie Q, has legs to die for. Sometimes literally.
In this cunningly rethought version, we encounter Nikita three years after she escaped "The Division," this show's SD6-like shadow agency that trains wayward youths into becoming covert government assassins. Shades of Sydney Bristow, this Nikita ("Don't call me Nikki") has a tragic romantic past that fuels her revenge tactics as she vows to bring Division to its knees while making others pay who once did her wrong. Her vendetta brings her face to face with her former handler (with the presumed former sexual tension) known as Michael, here enacted by ER's Shane West with a bit too callow and boyish a demeanor. He's the ineffectual P to Maggie's steely Q, and it hardly seems a fair fight. (Adding some gravitas to the executive suite: 24's Xander Berkeley as Division's big boss, albeit named Percy, and O.C. siren Melinda Clarke as the alluring Amanda, who insists to a new recruit, "You don't have to be hard to survive." Though it probably helps.)
To Read More Click Here.