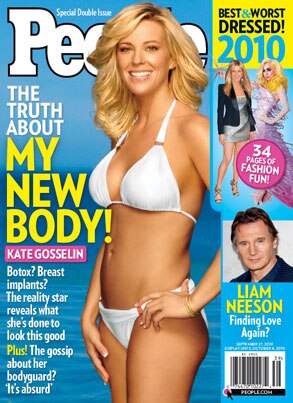 We've seen Kate Gosselin's bod in skimpy Dancing With the Stars outfits and her abs in the workout clothes.
Now the reality star's toned physique makes its official cover debut on People with an all-out white bikini photo shoot...
Says the mom of eight: "This is the most fit I've ever been" - mostly due to running (not plastic surgery) and without the help of a personal trainer.
Kate also spills diet secrets, like she's "majorly addicted to almonds" and snacks on "whole-grain kamut cakes...smeared with a little peanut butter."
Obvs, she's worked hard to get this fit. Are you excited to see her flaunt it in a two-piece?