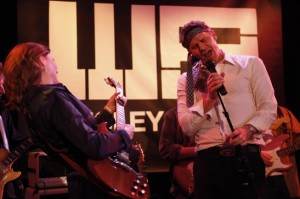 Alright, look, I love David Boreanaz. The man's got many skills. Singing? Not so much. I watched "Angel". So the fact that it looks like he will be singing in the April 29 new episode of Bones kind of scares me. But also makes me laugh. Try to find videos of Angel singing Barry Manilow. Hilarious.
FOX has released promo photos and a synopsis for the April 29 episode. Check them out below.
BRENNAN AND BOOTH INVESTGATE A DEATH AT A ROCK 'N ROLL FANTASY CAMP ON AN ALL-NEW "BONES" THURDAY, APRIL 29, ON FOX.
To Read More Click Here.