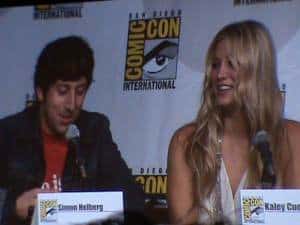 Before the panel even started, the audience was tested to the sounds of instruments being tuned, and the distribution of lyric sheets for the Big Bang Theory theme song! The session started with a series highlight reel featuring Comic-Con-esque scenes. Next, out came Wheaton to moderate the panel and lead the gathered masses to sing the theme song WITH THE BARENAKED LADIES! Wheaton then brought out the stars of the show: Johnny Galecki, Jim Parsons, Kaley Cuoco, Kunal Nayyar, and Simon Helberg.
When asked what things they are actually geeky for, Nayyar responded with badminton. Helberg was geeky for the Barenaked Ladies' accordion solo. Parsons likes talk radio(?), while Galecki geeks out for work…..and True Blood! Wheaton says that when he first was on the BBT set, he was pleasantly surprised how much like family the cast is. When a scene ended, the cast didn't go to eir dressing rooms, but rather the ping-pong tables. Then, a very long discussion about an on-set ping-pong tournament, with wheaten likening himself to Yoko Ono by possibly breaking up the BBT cast.
To Read More Click Here.