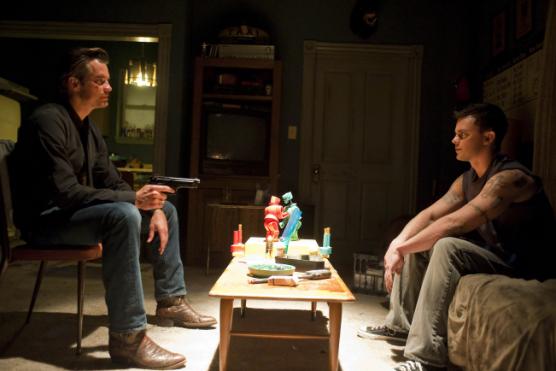 Two people took a beating and three people were shot this week on Justified and Raylan Givens had absolutely nothing to do with any of it?
Apparently if you take away the man's hat, you take away his ability to cause trouble as well.
With his hat on (and likely drunk), Raylan starts a fight with two guys who promptly give him a beating. Those boys take his hat and the next time someone comes looking for a fight, Duffy's associate - Billy Mac, Raylan professes "I already got one ass kicking. I'm not looking for another."
Who is this man who backs away from a fight? That's not the Raylan Givens we've come to know and love. I'm not complaining, but it was an interesting angle to take with Raylan. Almost like Sampson without his hair, if you take away Raylan's hat, he turns into a peace maker.
To Read More Click Here.