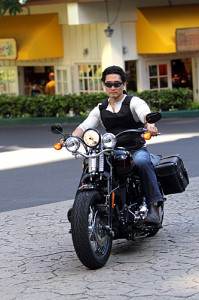 Aloha from Oahu. Let's recap Hawaii Five-O Episode 02 Ohana
One week after Hawaii Five-O's pilot aired, the second episode starts where the first left off; with a gunfight. Seriously, if this awesome action stuff keeps up I might never stop watching this show.
We open with Roland Lowry (Steve Cohen), an Ex-NSA specialist, with an unbreakable looking briefcase in the seat next to him, being escorted down Ala Moana Blvd to a top-secret meeting. Mid-way through a phone conversation with his son Evan (Colin Ford) his car is t-boned by a white van, flipping Roland's SUV upside down. Gunman from the van kill Roland's bodyguards (hired from Braddah's Private Security. Hilarious.) and kidnap him. We are left with Evan crying out to his father over the phone.
Cue iconic Hawaii Five-O theme song. I want to thank Jon Favreau for convincing the show runners to keep the original song.
To Read More Click Here.