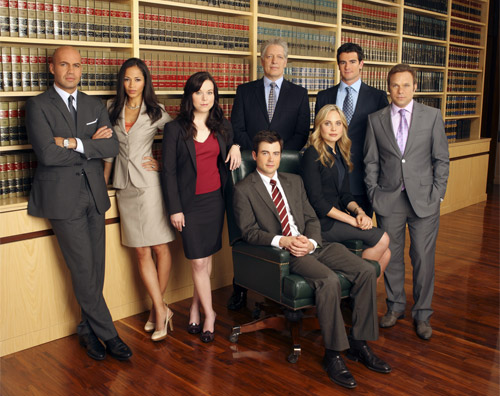 THE DEEP END could very simply be described as Grey's Anatomy with lawyers.
The show follows the lives of five law associates who have been accepted into one of Los Angeles' most prestigious law firms, the law offices of Sterling. However, they will soon find that staying on top is not as easy as they originally thought.
In the first episode, we meet Dylan (Matt Long) who is just starting at the firm and is given a challenging pro bono custody case. In order to impress his bosses (and keep his job), he will have to dig deep in order to win the case.
Beth (Leah Pipes) is another associate, who in the first episode has to stay silent when a 90-year-old man signs an agreement thinking she's his daughter.
Liam (Ben Lawson), the third associate, has to lie to a potential client in order for her to sign with the firm. Unfortunately, he will soon find that it's not as easy as he was hoping it would be.
Addy (Tina Majorino), the fourth associate, struggles with being invisible to her boss and only given mediocre work until she actually stands up for herself, and thus gains her boss' attention.
And finally, associate #5 is Malcolm (Mehcad Brooks), who gets off on the wrong foot when he is hired outside the firm's traditional process.
But of course, like in Grey's Anatomy, these five associates report to a few people higher up. Meet the partners of Sterling, Rowdy (Norbert Leo Butz), Cliff Huddle (Billy Zane), who is married to another partner Susan Oppenheim (Nicole Ari Parker), and Hart Sterling (Clancy Brown).
Similar to Grey's Anatomy, The Deep End focuses on the five associates, their challenges at work and dealing with their bosses, their individual love lives, and their relationships with each other. So if that's a formula you enjoy, you might want to check out The Deep End as well.
I'll admit that I was a little skeptical when I first heard of the show, but after watching the pilot, I have to say that I really enjoyed it a lot and have put The Deep End on my list of shows to watch.
Even though, it did remind me of Grey's Anatomy, the characters of The Deep End are compelling enough that you'll enjoy watching none the less. And the characters are all different, which will allow us to get to know them better throughout the episodes, something that I always find refreshing.
I personally really loved the character of Addy, and of course it doesn't hurt that I really like Tina Majorino. I am also glad to see Matt Long (Jack & Bobby) back on TV, and his character, Dylan, was also one I really enjoyed.
While The Deep End doesn't have a season pass for me yet, it's definitely heading in the right direction. I enjoyed the pilot episode and am hoping that the upcoming episode will continue to captivate my attention.
The Deep End premieres tonight on ABC at 8pm.