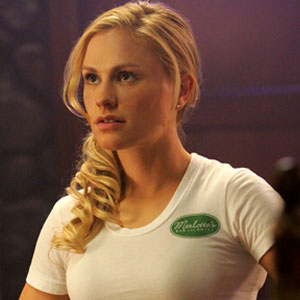 Could True Blood's love triangle of Sookie Stackhouse, Bill and Eric be heating up?
The Golden Globe-winning HBO drama returns this summer for another round of bloody, bitey Louisiana sexcapades, and everyone is dying to know what's going down in Bon Temps.
How will Sookie cope with news about Bill's newly made and superannoying vampire tootsie Jessica?
What's up with Tara and Sam: Are they friends with benefits, genuine lovers or none of the above?
And most important of all: Is Lafayette dead or undead?!
Want to know what's to come? We've got answers from the cast about all your burning Q's...
So will Eric break up Sookie and Bill? Stephen Moyer tells me, "I couldn't possibly say. I honestly don't know, but I think that there will be all the conflict that there needs to be to make it a great frisson."
What about that other third party, Bill's baby-vamp Jessica (Deborah Ann Woll)? Moyer teases, "She is nuts-and fantastic."
As for our other faves, Nelsan Ellis isn't sharing anything about Lafayette's fate, telling fans, "They have to wait and see," but he's definitely up for more Blood if it's offered. Says Nelsan, "Absolutely, yeah, I'll come back. I'll take the paycheck." Indeed, Nelsan's as invested as the rest of us in the question of whether or not Lafayette lives or dies, saying, "I love the fact that people are invested in this story. I like Lafayette, and I like that people like him."
Last but not least, Tara is still struggling to find her way in life. Michelle Forbes' slinky, sneaky maenad is certainly suspicious but Rutina Wesley says she may not be all bad, telling us, "She saved my life, basically." As for Tara's love life, the thing with Sam is not totally off the table: "[Sam and Tara have] a complicated relationship, and Sam still kind of has that little thing for Sookie. But Tara loves her some Sam-so we'll see."
Should Tara and Sam be together? Are you Team Eric or Team Bill? Could you live with a True Blood that didn't have any Lafayette?
True Blood returns to HBO in June or July for season two.