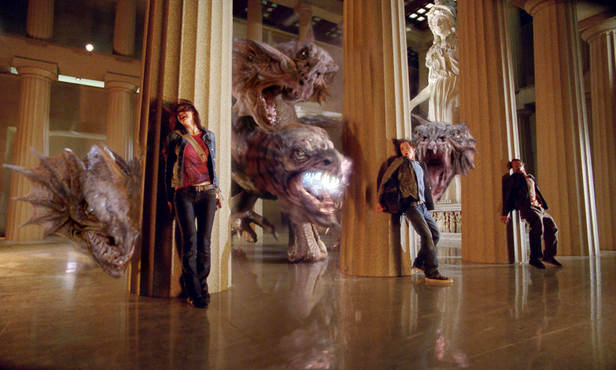 As it gets closer to its release date, "Percy Jackson & the Olympians: The Lightning Thief" keeps teasing audience through some new snippets and images. On Wednesday, February 3, MovieWeb has debuted two clips, one of which follows Percy Jackson, Annabeth Chase and Grover Underwood on their effort to get a pearl in what looks like a casino, while the other one gives a glimpse of Hades transforming into a freaky creature.
In the meantime, Yahoo! Movies has got its hand on two new stills from the fantasy movie. Percy and his two friends are once again featured together in one photo which has them standing behind pillars as they try to avoid being attacked by a many-headed Hydra. Additionally, Grover is captured alongside Chiron in the other picture. Moreover, the sites also has some character spots which each highlights different characters, Percy, Annabeth, Grover, Medusa and Hades.
Set in the 12th century, "Percy Jackson & the Olympians: The Lightning Thief" centers its story on 12-year-old Percy who discovers that he is the demigod son of the Greek god, Poseidon. He embarks on a journey across modern-day America with his friends to save his mother, return Zeus' stolen lightning bolt, and prevent a war between the gods.
Directed by Chris Columbus, the man behind the first three "Harry Potter" films, the film has Logan Lerman leading with the likes of Pierce Brosnan, Uma Thurman and Rosario Dawson in supporting roles. Meanwhile, Percy Jackon's friends are played by Brandon T. Jackson and Alexandra Daddario. The flick will open wide in theaters across the U.S.