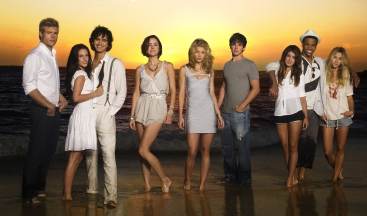 While the rebooted Melrose Place was canceled after one season, the rebooted version of 90210 will be entering its third season on September 13. The show will be moving to Mondays at 8:00 p.m. and will be followed by Gossip Girl. The CW has released a promo with new scenes from the upcoming season premiere, as well as a short summary of the third season.
The third season of 90210 welcomes the West Beverly kids to their senior year of high school. It's the time of college acceptances and lovers' rejections, the time of prom dates and promises betrayed, the time of spring break, break-ups and make-ups - but as is always the case in Beverly Hills, it all happens in a world of sun and fun, palm trees and warm sea breezes, success and excess. From the very beginning of the school year, the lives of the West Beverly group will be shaken up in a way none of them could ever imagine. And from this new starting point, their journeys will take them to staggering new heights and terrifying new depths.
To Read More Click Here.