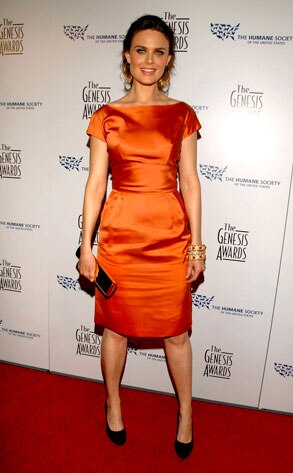 Boning, babies and Booth-those are the three B's that make up this year's Bones season finale.
We caught up with Emily Deschanel at the Genesis Awards, where she spilled that the sex is all about Brennan's burnin' baby fever. Emily exclusively dishes on how the duo end up in bed, and where it's taking them next season...
Got the Fever: Says Emily, "Brennan is a character who never wanted children at all." But having changed her mind, "She asks Booth because she thinks he would make a good father for her children." However, making a baby takes two, so there's a lot to figure out on Booth's side as well.
The Baby Daddy: Emily tells us, "Booth has to deal with whether he wants to do that, does he help his friend out? He doesn't feel comfortable just donating his sperm and not being apart of the baby's life. Brennan sees it as basically a transaction, [and] he's struggling with that [view, but] he says yes. There's some twists and turns in the episode that will kind of throw a wrench into things, you'll see." Could the pair be playing house once their little bambino comes? Emily dishes, "In the last two episodes [of the season] there are some big things happening, and there will be some insights into Booth and Brennan and what they're thinking-what their plans are for their life together or not."
Bedding Boreanaz: For Booth and Brennan to make BBs, er, B&B babies, Emily has to get into bed with costar David Boreanaz, and she's actually a little nervous, "If you think about kissing your coworker of several years and then being in bed with them, it's just odd. I'm nervous, but we've talked about it. We joke about it a lot and stuff, but who knows. We really don't know what it's going to be like or anything, because we haven't been given the script of that yet. I'm excited to read it myself."
Are you excited for Booth and Bones to hit the sack? Or do you think it will ruin the show? Hit the comments with names for the mini-B&B!