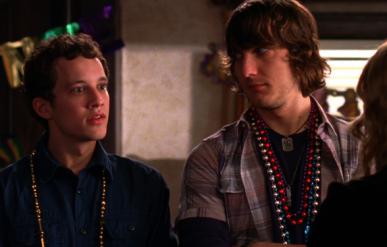 It's spring break! Woot! Woot! "All Children... Grow Up" is the Season 3 finale, and the Greeks bring all their drama down to Myrtle Beach. Check out our episode guide for all the details!
Last week, we were left hanging, waiting to hear about the KT's "master revenge plans" against the Omega Chis. Did the plans live up to your expectations?
Let's see what went down at Myrtle Beach:
Phase 1: Lose golf tournament - hand over the keys to the beach house to Omega Chi.
Phase 2: Get Omega Chis kicked out of the house by a scary quasi-mobster.
Phase 3: Have the Omega Chis see Rusty with the mob man to make them believe that no one is actually staying at the house.
To Read More Click here.