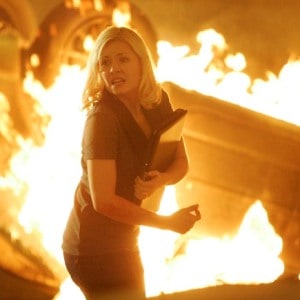 After the whatever-you-call-it that is the sixth season, the current 24 season wins. Personally, it felt like a return to what they've been doing in the early seasons, and then some, with all the emotional toll finally kicking in, after all that betrayal and all those deaths. Oh, and the possibility of a dead Jack Bauer, too. The two-hour season finale promised to wrap everything up with a bang and the usual "and then some", and for the first time in weeks, we're doing a recap of all that happened. Because I finally got the go-signal, or something. Ready?
Last week, the authorities barely averted a biological attack in Washington, D.C., and to top it all off, Jack gets Tony. Kim flirts with trouble yet again, and Olivia gets cornered after Hodges was killed by a car bomb.
Olivia sits in some conference room with loads of monitors. It's the Deputy Attorney General and a couple of folks from the Justice Department on the other end; it's an investigation into Hodges' murder. She wonders why she needs protection; he answers that her questioning is all just a formality.
President Taylor looks for her daughter as she goes to her daily briefing, and Woods tells her that the leak came from the inside. Meeting commences, and she briefs officials regarding the events of the past hours, including Hodges' revelation about the "big machine" whatever. She says Tony got arrested, too.
To Read More Click here.