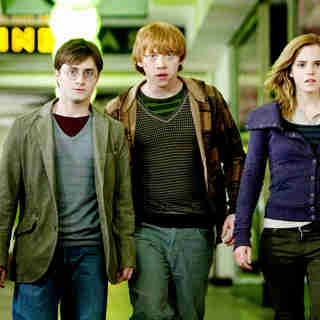 Another movie is going to make use of 2010 MTV Movie Awards as promotional vehicle. After it was confirmed that "The Twilight Saga's Eclipse" will bring a clip at the show, it has just been announced that an exclusive, never-before-seen clip from highly anticipated "Harry Potter and the Deathly Hallows: Part I" is also going to be debuted at the June 6 event.
It has not been known whether or not the cast from the young wizards movie franchise will attend the show to present the new sneak peek. In the meantime, "Twilight" stars Robert Pattinson, Kristen Stewart and Taylor Lautner are set to show up on the stage to introduce the new preview video from their upcoming film.
This year's MTV Movie Awards is going to be led by Aziz Ansari. The likes of Zac Efron, Tom Cruise, Jessica Biel, Russell Brand and P. Diddy are billed to present the kudos, while Christina Aguilera and Katy Perry are slated to perform. The ceremony that will take place at the Gibson Amphitheater in Universal City, California will be aired live starting at 9 P.M.