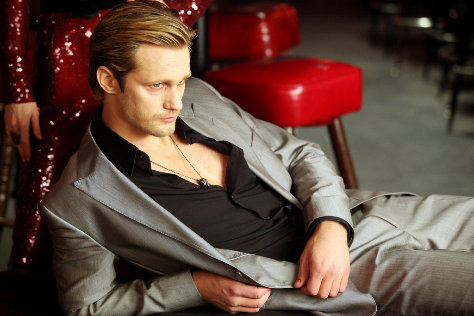 It has just been confirmed at the Paley Center for Media that "True Blood" will be back for the third season in June 2010, the same time frame when season 2 debuted. During the panel held in Los Angeles on Wednesday, October 28, creator Alan Ball and other writers such as Raelle Tucker and Alexander Woo came out with a lot of spoilers for the new season.
First thing first, Ball answered the question about season 2's cliffhanger where Bill was abducted by an unknown person. Ball spilled that fans need not wait long because it will be revealed immediately in the first episode. Another juicy spoiler would be shirtless Eric. "Alexander Skarsgard appears without most of his clothes in the very first episode of season 3," Ball revealed.
On which characters will strut back, Ball said, "There are a big boatload of new characters in season. Even the Newlins may appear again." He also confirmed that Evan Rachel Wood will return as Queen of Louisiana, something which the audience at the panel were not too excited about. Pam and Nan Flagan will also show up. Interestingly, one dead character which will be resurrected in the form of flashback would be Godric.
Regarding the fate of Sookie, Ball said, "There will be more conjecture about what she is and she will be more driven to discover what she is." In fact the theme for the third season would be "Identity". Her relationship with Bill may not be a smooth ride in season 3 but they "have a connection that will not die."
The third season is based on Charlaine Harris' third book "Club Dead". Ball said that he has a responsibility to stay true to the book but then there would be no surprises.