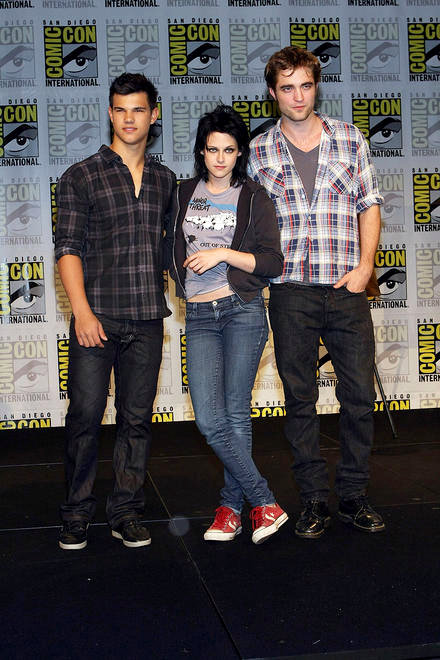 Two exclusive new footage of "The Twilight Saga's New Moon" have been previewed when Summit Entertainment held a panel for the highly anticipated movie at San Diego Comic-Con International 2009 on Thursday, July 23. Presented by director Chris Weitz, the sneak peeks to the "Twilight" sequel feature Bella's hallucination as well as an Italy scene.
While none of the footage has made its round yet, MTV has provided a detailed description for each of the footage. The first one saw Bella getting on a motorcycle before looking in Jacob's eyes as he puts his hands on hers. As soon as she starts the bike, she gets a vision of Edward telling her to stop, leading her to fall from the bike and bleed.
When Jacob rushes to her side, he sees the blood on her forehead and thus uses his shirt to stop the bleeding. During the time, Bella looks up at him and says, "You sure are beautiful." Jacob smiles and shakes his head before saying, "How hard did you hit your head?". The second clip, on the other hand, focused on the scene where Alice drives Bella to save Edward.
"After riding in the yellow Porsche, Bella runs from the car through a crowded celebration, running through the town square's fountain when she sees Edward removing his shirt and stepping into the sun. 'Stop! Stop!' she yells. 'Edward! Don't!' " so wrote MTV about the clip.
Beside unraveling the clip, Weitz also unveiled a few interesting details about the movie. He confessed that in a scene Taylor Lautner's Jacob will be seen delivering a line in the Quileute language. In addition, the filmmaker also told the crowd attending the panel that compared to the first movie, "New Moon" has got a lot more CGI and intense action.
Weitz furthermore revealed that Taylor did the stunt himself, recalling "And Taylor did every single stunt that he could possibly get his hands on. Every stunt except the ones that the insurance company said he wasn't allowed to do." He added, "Really, if Jacob is doing something impressive in the film, it's pretty much Taylor doing it."
Beside Chris Weitz, three "New Moon" lead actors, Robert Pattinson, Kristen Stewart and Taylor Lautner were also present before the crowd. They made time to answer questions related to "New Moon" and their newly-found fame due to "Twilight". Footage from the panel have been made available by Entertainment Tonight as well as E! Online.