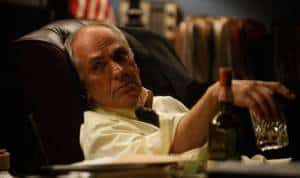 Now we can say it with authority. Rubicon is one of the best series on TV in 2010. And if it were up to me (which, sadly, it is not), James Badge Dale (Will) and Michael Cristofer (Spangler) would be nominated for Emmy's for their work in 1.11.
Finally, we have some answers. Of course, whether they are definitive remains to be seen. Terrorism for profit. If it seems too simple, perhaps it is. But then again, aren't the answers always this simple when it comes right down to it? Greed. Power. Hubris.
It appears more likely than ever that Kateb is working for the Clover Group. That the lives we've watched over the course of the season be destroyed by the stress, guilt and pressure of working for API are nothing more than patsies, sent on fools' errands to cover up the trail of the upcoming attack in the U.S in order for American corporations to profit by it.
To Read More Click Here.