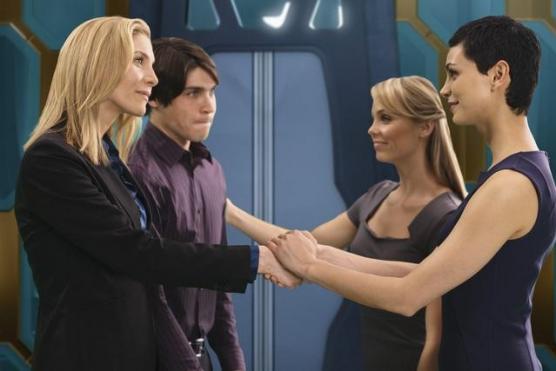 Val's water breaks and her baby with Ryan will soon be born. Meanwhile, Erica, tired of being on the defensive, decides to go on the offensive and gets herself and Tyler invited up to the Mother ship for a get-to-know-everyone-better dinner. But she has more than food on her mind; she's really there to find Anna's soldiers and destroy them. And Chad, after Father Jack asks him to help get a message on the ship to Joshua, discovers the awful truth that Anna's been using him
Well my fellow V-stonians, we are finally here: The final episode of V Season 1. It's been a winding road with a lot of bumps, dips, hills, turns and nasty road kill. Fortunately for us, it's all been worth it (for the most part). So let's check out what happened in this episode, shall we?
12 minutes in
The Super V soldier who nearly killed our beloved gang of rebels in the last episode is up to his killing ways again. This time, however, he's taken his anger out on a cow. Yes, a cow. Why you ask? He's hungry. That's why. It's the first we really get to see the chompers on those nasty aliens from outer space. And believe me, it's not pretty. Then his spider sense goes off. We don't know why, but he runs off into the night. What a waste of food.
We head on over to an undisclosed location where Val and the good V doctor are preparing for the birth of baby Hybrid (I picked the name out myself). Things seem to be going fine until the Super V soldier kicks in the door and grabs Val. What? Without calling?
To Read More Click Here.