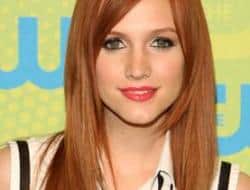 Singer-songwriter and newcomer to the Melrose Place reboot Ashlee Simpson-Wentz says she can't wait to get the show rolling.
"I play the girl that's straight-off-the-bus. It's fun," she tells MTV News. "It's exciting because we don't get to see the next episode. We don't get to read the scripts until we're actually about to shoot it, and everyone is dying to know what's going to happen to their characters, so it's fun. It'll be exciting to play that arc. ... It's got good drama."
The wife of Fall Out Boy's sexually ambiguous bass guitarist and vocalist Pete Wentz will play Violet Foster, a small-town girl who comes to Los Angeles with a secret, a character that parallels those of originals Sydney Andrews (Laura Leighton) and Sandy Harling (Amy Locane).
The 24-year-old, to her credit, is no stranger to television, having appeared on 7th Heaven, her own reality show, and one episode of Malcolm in the Middle and CSI: NY, on which she appeared with her hubby. Will Wentz be dropping by Melrose Place anytime soon? Don't count on it, she says.
"He hangs with me, but we don't read lines," she says. "I'm sure he would if I asked him to. I don't know about [him making a cameo]! I went on to do my music career so now I'm really, really thrilled [to be back on TV]. This is what I wanted to do and this is such a great show. I'm so excited about the show."
Melrose Place also stars Katie Cassidy, Colin Egglesfield, Stephanie Jacobsen, Jessica Lucas, Michael Rady, and Shaun Sipos. The show is set to debut this fall on The CW, with Smallville producers Todd Slavkin and Darren Swimmer at the helm.