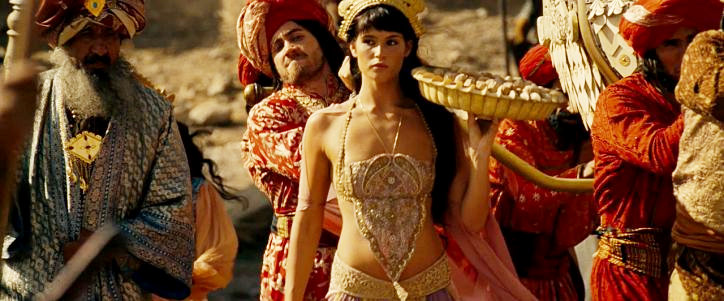 Entertainment Tonight (ET) has got its hand on an exclusive behind the scene clip of "Prince of Persia: Sands of Time". Beside showing some new footage from the film, the sneak peek also features Jake Gyllenhaal who rehearsed for his fighting scenes as well an interview with the depicter of the major character.
Speaking to the site about his preparation for the film, Gyllenhaal admitted, "I over-prepared myself because I never knew how much they were going to ask me to do, so I just made sure I'd be hopefully able to do anything. I guess I've gotten buff." He additionally told ET that when the shooting wraps, "It's going to turn into fat and I'm going to be happy."
"Prince of Persia: Sands of Time" follows Dastan, a street urchin in 6th century Persia who, after showing valor in battle, is adopted by the king as his heir. Now as the fate of the world is in jeopardy, he must join forces with Tamina, a feisty and exotic princess, to prevent a villainous nobleman from possessing the Sands of Time, a gift from the gods that can reverse time and allow its possessor to rule the world.
Serving as the man behind the lens is "Harry Potter and the Goblet of Fire" director Mike Newel. Beside Jake Gyllenhaal, the movie will see Gemma Arterton taking the role of Tamina, Ben Kingsley starring as the villainous Nizam, and Alfred Molina playing Sheik Amar. Walt Disney Pictures eyes to release the film in the U.S. on May 28, 2010.