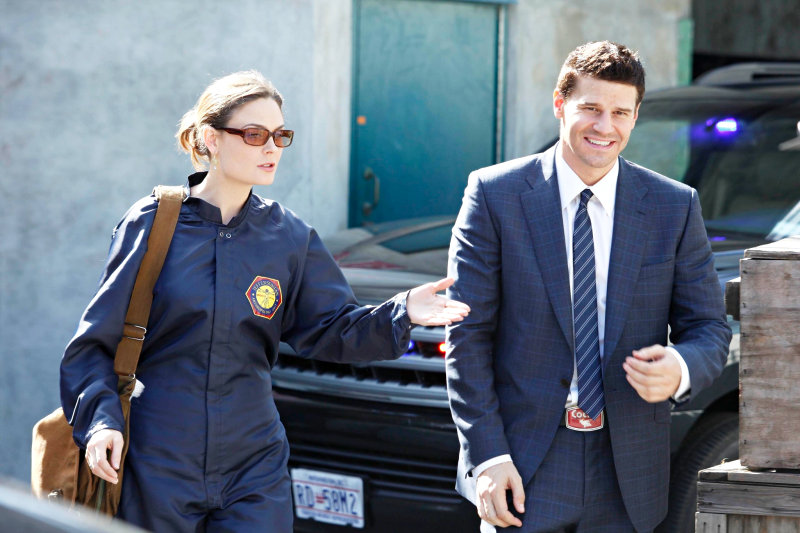 * Bones (8/7c Fox)
Since Zack's departure, the revolving nature of the Jeffersonian's interns don't always merit a second look. But keep an eye out for Joel David Moore when his character, lab assistant Colin Fisher, camps out for movie tickets with Sweets and Hodgins. It just so happens the film they're dying to see, James Cameron's upcoming sci-fi epic Avatar, includes Moore as one of its costars. Speaking of virtual reality, Brennan and Booth investigate the video-arcade scene when it's "game over" for a star player.
* FlashForward (8/7c ABC)
What if a confession was made and nobody listened? Or if everyone laughed? Those are two possible outcomes tonight, as Lloyd tries to come clean about his and Simon's possible role in the blackout. In other events, Mark and Demetri head to Hong Kong to find the woman who told Demetri the specifics of his death, and Zoey learns what her flash-forward means.
* Private Practice (9/8c ABC)
Last time, we met Addison's rich father (Stephen Collins) and learned that he's a cad. In the first part of tonight's two-hour episode, he acts like one, and it hits home. And if that's not enough dysfunction for one family, Addison's mom (JoBeth Williams) turns up in the second hour and divulges a family secret that no one wants to know. Meanwhile, Sam and Naomi realize that their little Maya isn't as little as they'd like her to be, and Dell and Heather's warm-and-fuzzies come to an explosive end.
* 30 Rock (9:30/8:30c NBC)
Look who's talking. It's Liz, and she gets down to biz when production finally gets underway on her brand-new talk show, Dealbreakers. But she'll be taking a talk on the wild side when meddlesome and nettlesome Jack, while tangling with nemesis Devin Banks (Will Arnett), schemes to make her program a runaway hit. In other developments, Rock star Tracy tries to prove his love to his wife (Sherri Shepherd) by participating in the ultimate Hollywood challenge.
* It's Always Sunny in Philadelphia (10/9c FX)
If it's always sunny in Philadelphia, why does M. Night Shyamalan live in the area? It's a question you might want to ponder tonight, when Dee lands a role in a Shyamalan film on genocide in the former Yugoslavia. Actually, Dee's an extra, but she doesn't realize that until the assistant director starts treating her like dirt. As for Shyamalan himself, the Philadelphia-based horror maven is nowhere to be seen. He's gotta have too much sense to make a cameo on a sitcom.