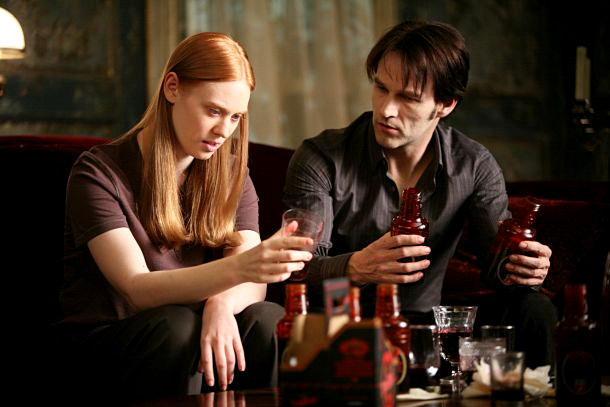 "True Blood" took over 2009 Paley Festival in California on Monday, April 13 by bringing the cast and the creator, Alan Ball. Beside a presentation by the panel, there's also the first look into the second season which footage has been leaked online.
The video which is of low quality, shows Sookie, Jessica and Bill's scene in a car. Sookie argues with Bill about Jessica's relationship with her family with Bill insisting that a vampire doesn't have a family. Sookie, so mad at Bill, gets out of the car to walk to their destination and she is attacked by an unknown creature later on.
It is unclear whether this could be the talked-about new supernatural creature that Ball had mentioned before. During the red carpet interview with Ball, E! quoted him "She spends the first half of the season focusing on vampires and vampire politics in Dallas, as a sort of favor to Eric, and she spends the last half of the season cleaning up the mess that some new supernatural creatures have created in her town-and she is pissed. She is not going to take it anymore."
"True Blood" season two is scheduled to premiere on HBO June 14 and several promo pics were released last month.
During the Paley Fest, Alan Ball talked about how he stumbled upon Charlaine Harris' book the series is based upon, saying that he was 20 minutes early for dentist appointment and therefore killed the time in a book store. Anna Paquin meanwhile, said that she stalked Ball for months to get the part for Sookie.
To Watch The Preview Click here.