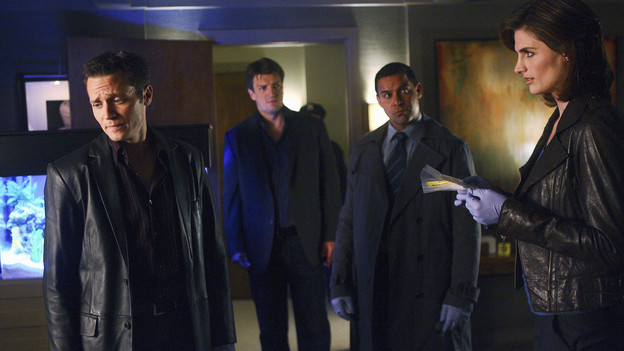 When two separate murders pop up, Castle bets Ryan and Esposito that he and Beckett can close their case first. Who says catching killers can't be fun?
There's a full moon out which makes for a wild night at the precinct. The team is called to a therapist's office where they find the body of Dr. Ashley Cosway. The doc's face has insults written all over it. Could it be the handiwork of an angry patient? A second homicide call comes in and Beckett sends Ryan and Esposito to check it out. The victim, Frank Anderson, is a retired school teacher seemingly shot during a random mugging. When everyone gets back to the precinct, Castle wagers that he and Beckett can solve their case first. Ryan and Esposito take that action. It's game on! But we're thinking all bets are off if Beckett finds out.
While Ryan and Esposito focus on gang kids who hang in the park where Frank Anderson took his walks, Beckett and Castle look into Hal Ross, a patient who has violent assaults charges on his record. Ross says that he's not their killer, but that Dr. Cosway got into a yelling match with whoever had the appointment before him.
Turns out Evan Hinkle, the guy scheduled for the aforementioned appointment, canceled and Dr. Cosway ended up having lunch with Jason, which means she was yelling at her hubby. As Beckett looks into this, Castle quietly takes bets from everyone else at the precinct. Beckett quickly figures out what's going on. However, once she finds out Jason took out a three million dollar life insurance policy on his wife, Beckett puts down a C-note on her and Castle. Ok, so we misjudged Beckett. Now we're just bummed we can't get in on the action.
To Read More Click Here.