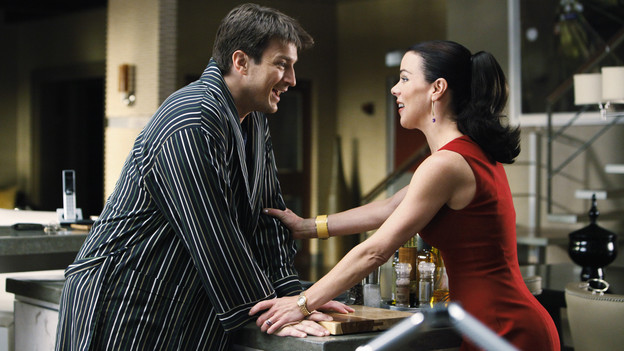 Castle's agent, Paula Haas (guest star Debi Mazar; who's also been Dancing with the Stars in Season 9), tells him he's being tapped to re-launch a major franchise, that of a certain British secret agent. She doesn't mention any names, but were thinking the main character likes martinis. At the book launch party for HEAT WAVE, Beckett discovers that Castle called her extraordinary in his dedication. They both have mixed feelings about Castle's new offer, as their working relationship looks like it may be coming to an end. Think they'll be able to squeeze in one more case?
The body of Eliska Sokol is found down a manhole. At the victim's apartment, Castle and Beckett find a picture of a woman with a young boy at a playground. The mother and son in the picture are Melissa and Zane Talbot. Eliska had worked in their building until she was fired as a result of an incident with Mrs. Talbot. Melissa and her husband, Dr. Cameron Talbot, were upset that Eliska had given Zane a lollipop without her permission, as they didn't really know her all that well.
When they track down Eliska's ex-husband, Teodor Hajek, he bolts, fearing deportation. After a highlight reel-worthy takedown tackle by Esposito, Hajek is arrested. He had no idea his ex-wife was dead and emotionally tells of how his relationship with Eliska went south after the death of their young son.
To Read More Click Here.