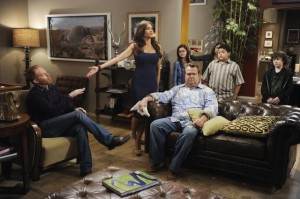 MODERN FAMILY The Kiss Season 2 Episode 2 - The The Kiss episode of MODERN FAMILY is filled with clashes: Cam and Mitchell over public displays of affection; Gloria and Jay over her heritage, Claire with Haley and Alex because she read Alex's texts, and Phil with Jay's wireless printer.
I love this show. I think everyone knew Cam and Mitchell would kiss in this episode, but I doubt many people predicted it would happen so perfectly. Shocking exactly no one, Mitchell is not publicly affectionate (You don't like Kiss Buggy?) and Cam is more than a little bothered (Gays don`t high five.). Naturally, this has to be brought up at a family dinner, where it's decided that non-kissing Jay is to blame. Ed O'Neill has the sometimes thankless job of playing straight man (no pun intended) to all the other characters, but wow, does he do it well. Jay and Mitchell's front and center kiss is awkward and sweet (Jay, kiss your son-he's a mess.) while Cam and Mitchell's kiss in the background is natural and sweet. Well freaking done, Modern Family. Yes, showing two gay characters kiss on network TV is a big deal, but it shouldn't be, and I can't imagine a better way to show that than The Kiss does. I love Cam and Mitchell so much and the writers obviously do, too.
To Read More Click Here.