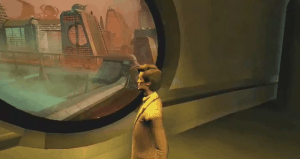 Last week, we posted a news item about a computer game being created for Doctor Who. That game is moving closer and closer to release, with the first "episode" being released on June 5, 2010 (that's a Saturday) from the BBC website. I'm not sure if the game will be available for American fans of the sci-fi series, but we'll let you know as soon as we find out.
In the meantime, feast your eyes upon this trailer for The Adventure Games that aired immediately after "Victory of the Daleks" premiered on BBC One yesterday. It looks like a solid game, though with average graphics. It looks like we'll be seeing the Daleks again, though whether these are the new, souped-up Daleks we were introduced to in "Victory of the Daleks" remains to be shown. The red one we see in the trailer sort of looks like it.
To Read More Click Here.