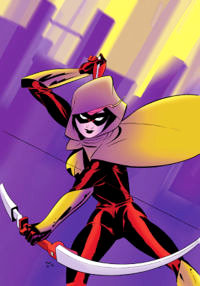 The upcoming season of "Smallville" will be one superhero fiesta, as several more DC Comics characters are confirmed coming to help Clark Kent. Executive Producer Brian Peterson revealed that Green Arrow's sidekick will be making a cameo along with Justice Society of America (JSA) and the previously-rumored Wonder Twins.
Instead of Roy Harper, Jr.'s version, "Smallville" will pick up the female Speedy. "It's the newest version of Speedy," Peterson explained. "Her name is Mia Dearden." Like the comic, the show will present her along with the dark past, including being HIV positive. "She has a sordid past and crosses paths with Oliver [Green Arrow] in some shady places," Executive Producer Kelly Souders added. "But he gives her hope."
Mia will be featured starting sixth episode but no actress has been revealed to fill the role.
JSA, meanwhile, will come out of retirement and give the "screwed-up guys of next generation a needed smack-down". Instead of the full line-up, the society will only feature four of them, Hawkman, Spectre, Atom and Doctor Fate.
The whispers about Wonder Twins' appearance meanwhile have been making rounds for sometime but never this close. Zan and Jayna will indeed show their faces in the eight episode, having no pointy ears but retaining the purple attire. Their blue monkey, Gleek, also tags along.
"Smallville" begins the ninth season on September 25 on The CW.